ENJOY AND EXPLORE LEBANON
DOWN TO THE BEACHES
NORTH
The beaches in the North range from private to semi-private. Most of the beaches are soft pebble beaches making the water crystal Mediteranean blue.
BEIRUT
Most of the beaches here are private resorts. Although the water isn't as clear here, the beaches are great for relaxing, enjoying the beautiful view, and a refreshing dip in the pool.

SOUTH
Down south the beaches vary from private to public. The beaches are sandy with refreshing water, and the waves allow for many sports and activites, such as surfing.
Up to the mountains

EASTERN LEBANESE MOUNTAIN RANGE
The Lebanese mountain range runs near the border between Syria and Lebanon. It consists of a variety of high peaks and low valleys, and beautiful vistas to hike through. Some great areas are Al-Chouf, Al Ariz, Jabal Moussa, and many more.
MUST SEE HISTORIC SITES
BYBLOS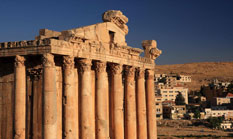 BAALBECK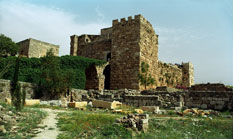 ANJAR
TYRE